Description | Facilities | Floor plan
LATEST NEWS:
Solar Power is on!
The Solar Power System is fully operational providing 24hr power and light. This virtually eliminates the need for the generator to run and there are almost no generators left in the valley so it's very peaceful.
Fraser View comprises of two self-contained units, each with two bedrooms.
Relax on the verandah watching the water and be soothed by the gentle sound of the surf. It's just a short 150 metre stroll to the beach.
We are located in the second valley of Happy Valley, and benefits from being near the end of a no through road.
There's lots of room for kids to play while you enjoy the peace and quiet with very few vehicles passing.
And now that the Dingo fence is completed they are no longer coming into the township so it's safe for children of all ages.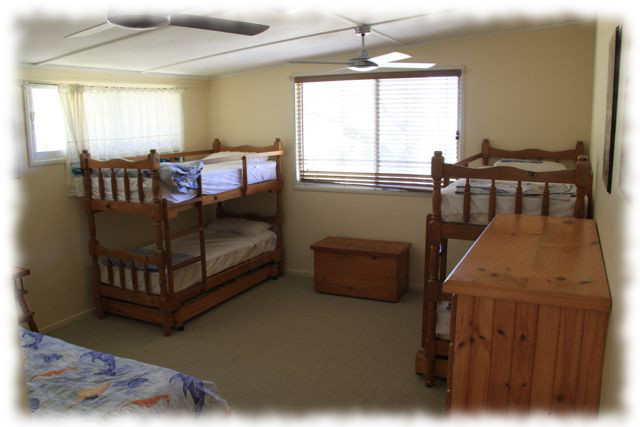 Double bunks in second bedroom (the dormitory), Unit 1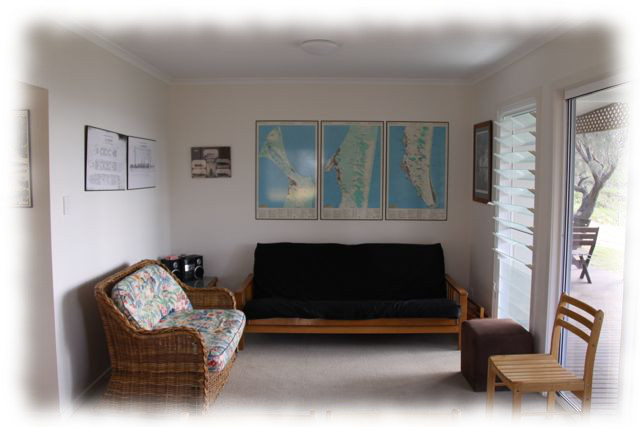 Lounge Unit 2
Each unit includes:
240v power from solar power system with battery and generator backup
Full size refigerator with freezer compartment
Chest freezer
Full size gas stove
Gas hot water and mains pressure water supply
Unit 1
Max 8 persons
Main Bed:
- queen
Dorm:
- 1 queen (New - was previously a double)
- 2 sets of bunks (singles)
- 1 Trundle (small single)
Unit 2
Max 4 persons (6 at a pinch)
Bed 1
- queen
Bed 2
- 1 set of bunks (singles)
- 1 trundle (small single)
Lounge:
1 Futon style sofa bed (double)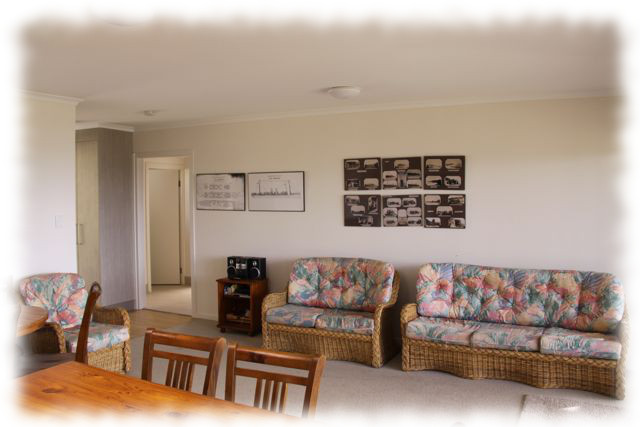 Lounge area, Unit 1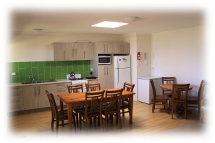 Kitchen Dining area, Unit 1
While each unit is fully self-contained, Fraser View lends itself to two families.
There is enough room to eat as a large group and then retreat to your own private space.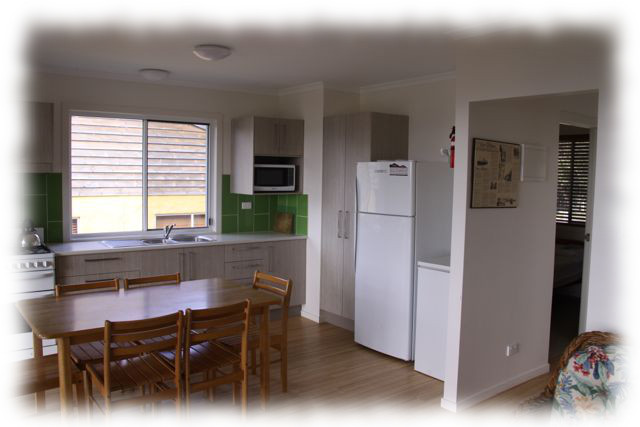 Kitchen and lounge area, Unit 2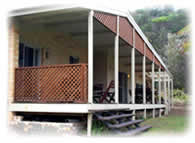 Verandah on seaward side
The different types of bedding are provided to allow choice rather than for each bed to be occupied.
Outdoor Dining:
Timber dining suite on the verandah for each unit.
Shared Facilities:
2 BBQs: 1 gas and 1 timber fired
A cot and high chair are available
Common laundry with washing machine

REMEMBER:
Linen is NOT supplied - you will need to bring linen to suit the beds you will be using.
Limited food is available at Happy Valley - we recommend that you bring the majority of your food requirements with you.
Please leave Fraser View as you found it. On your departure you will need to ensure that all dishes are washed and the stove and BBQ are clean.
Fraser is a sand island so a reliable 4WD vehicle is needed for access. A vehicle permit is also required and can be purchased in Brisbane or Rainbow Beach - contact des.qld.gov.au for rates and details.